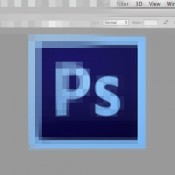 Adobe Photoshop is 25 years old! Born on Feb 19, 1990 when version 1 first shipped. I first started using Photoshop during the early 1990's, so I must have been using version 1 or 2. I certainly remember the early black and white and then red bordered eye icon! I first started using it on a Mac Classic.
I love Adobe Photoshop, and recently I've started experimenting with using it to create some new surreal and abstract artwork. I'm learning, and only just scratching the surface with this application – there's always so much more you can do with it.
Dare I say it, but the possibilities are almost limitless when you couple Photoshop with creativity. It's wonderful to see all the different styles, photography, images and creations that have been produced using Photoshop. I plan to continue to showcase some of these as part of my blog for inspiration and encouragement.
Adobe's celebrations
Adobe has produced a video to celebrate Photoshop's birthday:

See more at Happy 25th Anniversary Photoshop! on the Photoshop.com blog
Dreams from the Digital Darkroom — 25 Years of Photoshop – An interview with Thomas Knoll, one of the co-creators of Photoshop
Photoshop – the first demo, recreated!
…with John Knoll, one of the creators of Adobe Photoshop.

In the news
Just a small selection of news articles to give a flavour! There's loads more out there!
Adobe Photoshop turns 25: how it created, and questioned, the world's most iconic images (The Independent)
Happy 25th birthday, Photoshop! Adobe looks to mobile as key for the next 25 (Macworld)
The Evolution Of Photoshop: 25 Years In The Making (Creative Marketing By FastPrint)
Adobe Photoshop Is Now 25 Years Old (Yahoo!)
Photoshop turns 25: Adobe senior product manager recounts a proud creation that's always on the lookout (The Next Web)
Happy birthday, Photoshop: 25 tributes to the software that remade everything (Mashable UK)
Jennifer in paradise: the story of the first Photoshopped image (The Guardian)
Happy Birthday, Photoshop! Here's a Look Back on 25 Years of Digital Photo Editing (Petapixel)
A look back at 25 years of Photoshop (CBS News)
For more news items, why not just do an appropriate search on Google, such as 'happy 25 birthday photoshop'!
My current favourite feature?
My current favourite feature in Photoshop is layers! So critical as part of the image creation process.
What's your favourite feature in Photoshop? (Comment below!)
Wonder where we'll be in another 25 years?